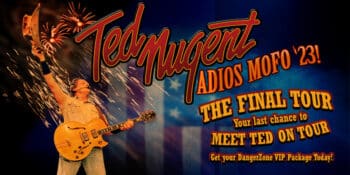 Arcada Theatre
St. Charles, IL, United States
Ted Nugent, Adios Mofo '23: The Final Tour
Monday, August 14, 2023
DANGERZONE VIP Package for One includes:
– One (1) ticket to the show
– Pre-show Meet & Greet with Ted Nugent
– One (1) commemorative VIP laminate
– One (1) photo of Ted Nugent perfect for autographing
– Photo opportunity with Ted Nugent at the Meet & Greet. Photo is taken with the fan's own camera.
Package Price: $870.00
DANGERZONE VIP Package UPGRADE for One includes:
– Pre-show Meet & Greet with Ted Nugent
– One (1) commemorative VIP laminate
– One (1) photo of Ted Nugent perfect for autographing
– Photo opportunity with Ted Nugent at the Meet & Greet. Photo is taken with the fan's own camera.
Package Price: $830.00
DANGERZONE VIP Package for Two includes:
– Two (2) tickets to the show
– Pre-show Meet & Greet with Ted Nugent
– Two (2) commemorative VIP laminates
– Two (2) photos of Ted Nugent perfect for autographing
– Photo opportunity with Ted Nugent at the Meet & Greet. Photo is taken with the fan's own camera.
Package Price: $1,624.00
DANGERZONE VIP Package UPGRADE for Two includes:
– Pre-show Meet & Greet with Ted Nugent
– Two (2) commemorative VIP laminates
– Two (2) photos of Ted Nugent perfect for autographing
– Photo opportunity with Ted Nugent at the Meet & Greet. Photo is taken with the fan's own camera.
Package Price: $1,368.00
IMPORTANT PACKAGE / SHOW INFORMATION
UPGRADE packages do not include a ticket to the show. Upgrade packages are the perfect option for anyone who has purchased show tickets separately or for free-admission shows. Where show tickets are required, all guests must have a valid ticket to the same day's performance to also participate in the Dangerzone VIP Meet & Greet experience. 
All VIP Packages for shows taking place within a festival/fair do not include festival/fair admission. Purchasing separate admission to may be required at the door.
You will receive an email 2-3 days prior to show date with the complete details for the day-of-show Meet & Greet. In the meantime, please contact tickets@TedNugent.com if you have questions about your VIP Package.